Welcome to Hallerbos B&B
16 minutes away from the centre of Brussels
From the moment you walk into the front garden of Hallerbos B&B, it's cabin/cottage coziness envelops you and you feel at ease. The view out of your room over the magnificent 622-hectare Hallerbos Forest literally takes your breath away. And you feel home. Our family takes life easily and goes with the flow. We share our life around our table, savouring cooking, eating, drinking and our blessings. Outside, mother nature does her magic and realigns your mind, body and spirit. Beyond the B&B and the forest, there are unforgettable experiences awaiting you in Halle, Pajottenland and the Zenne Valley. For more about us, see Melissa's Meanderings.
Be greeted at the reception or use the outside stairs to go directly to your private room or suite. All of our rooms and the suite have a ceiling to floor, wall to wall sliding glass door and private terrace overlooking the Hallerbos Forest. Enjoy glorious sunrises and deer grazing in the misty valley. Find peace in the sights, sounds and smells of nature. And end your day gazing at a sky full of stars or a full moon over the forest. Each room has a private bathroom, single beds which can be combined into a double bed on request, a lounge area, a dining/work table and chairs, a virtual fireplace, in-room coffee and tea, a refrigerator with beverages, and a television. Local shops and artists have decorated the rooms with pieces that can be purchased by guests.
Sign up for our email alerts and follow us on social media to receive invitations.
Or visit our Seasonal Events page.
So much more than the view
Campfire
End your day by the campfire while gazing at a sky full of stars or a full moon over the forest, with a fresh mint or healing herbal tea before bed. 
Garden
Complimentary access to our garden is available on request from 1 April to 30 September between 7:00 and 16:00.
Golf
Enjoy a relaxing game of golf on the grounds of Golf Club Enghien. You can also play minigolf at the Domain of Huizingen from April to September.
Giant Sequoia trees
The Hallerbos Forest is one of only seventy remaining growing places for endangered Giant Sequoia Trees, with diameters of 12 metres.
Leash free dog areas
Friendly dogs are welcome to join ours in the garden. You can walk them leashed in the Hallerbos Forest too, and there are some leash-free areas.
Outdoor heated pool
Complimentary access to our outdoor heated pool is available on request from 1 April to 30 September between 7:00 and 16:00.
Drift over the countryside in a hot air balloon
UP TO 11 PEOPLE IN A BASKET
Do you want to have a unique, unforgettable experience with memories that will last a lifetime? Our region's hot air balloon flying area is one of the most beautiful in the country. Float over the 622-hectare Hallerbos Forest and the bordering Pajottenland and Zenne Valley, a gentle and agricultural region, with its characteristic rolling green hills,  vast farmlands, breathtaking valleys and quaint small towns.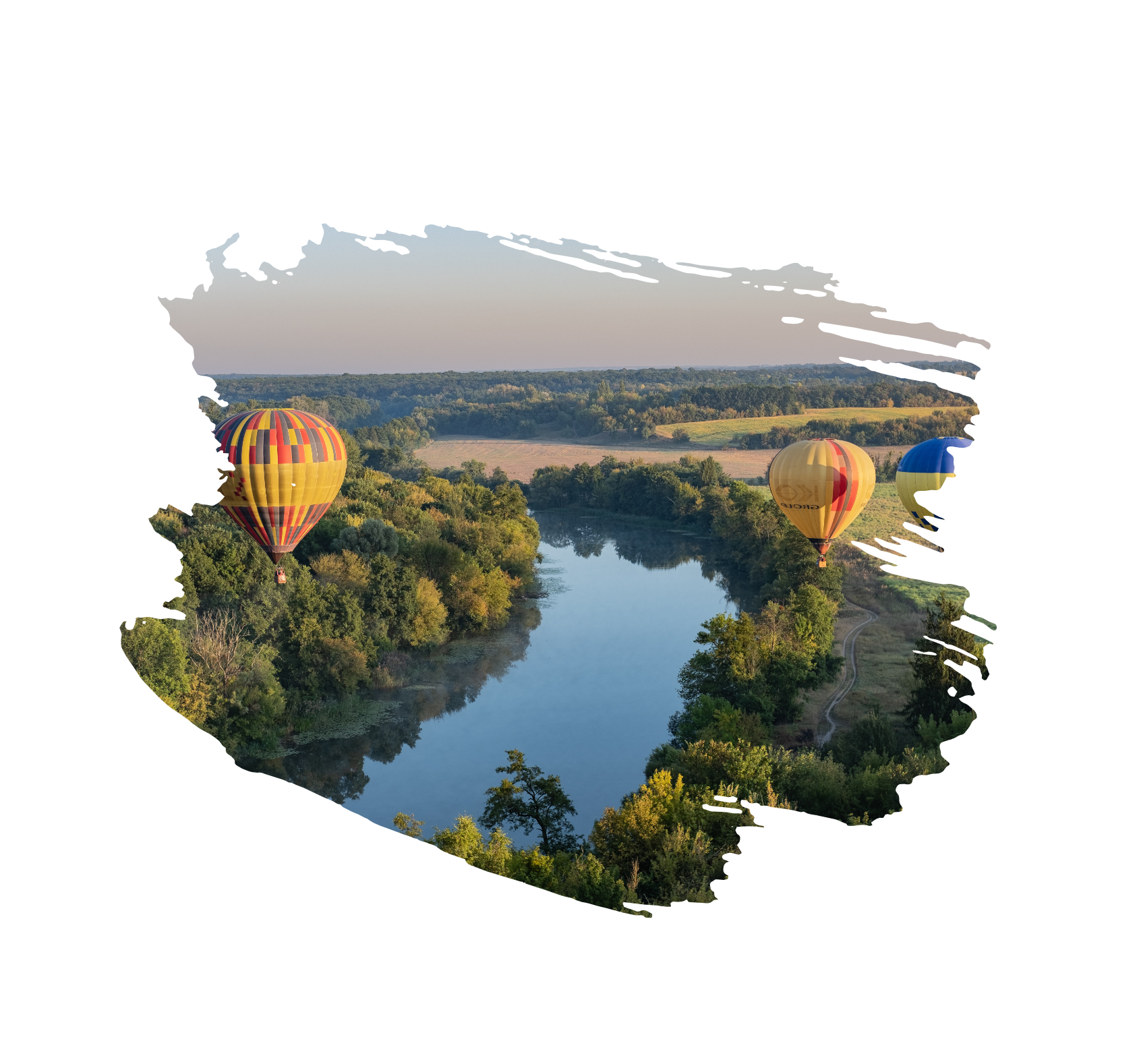 Our story is not just that we're a new B&B in Halle – there is so much more to us than that! We operate using two core concepts: First of all, we want our guests to have great experiences from the moment they walk into the front yard of
By train
Direct trains from Schuman, Luxembourg and Brussels stations to Halle station and then by bus, bike or taxi to Hallerbos B&B.
By car
Halle is easily accessible by car as the E19 motorway passes nearby.

By bike
By bicycle via the car-free road alongside the Brussels-Charleroi Canal. 
© 2022 Hallerbos B&B All Rights Reserved
Website by